The 72 Names of God are a powerful spiritual tool, a Kabbalistic key to an abundance of blessing, fortune, prosperity, wholeness and happiness.
With the help of these names, the wisdom of the Kabbalah provides a way for communicating with the mundane and the spiritual worlds – a way, and a miraculous power of changing every aspect of our lives where we feel a need for change, strengthening, protection, or progression.
If we disassemble the Tetragrammaton in Hebrew into its factors and add up its numerological numbers, we will receive the number 72:
(י (10), יה (15), יהו (21), יהוה (26
10+15+21+26=72, the 72 names of God.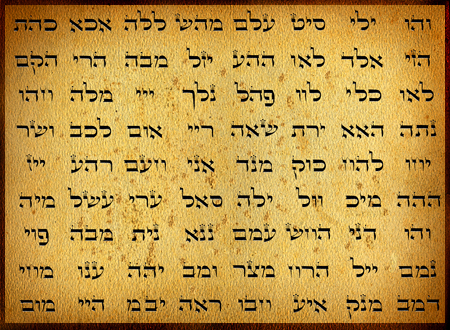 The 72 names from the scripture:
The 72 name of god are combined from three verses from the Book of Exodus, Chapter 14, from the story of the crossing of the Red Sea. Here are three consecutive verses, each containing 72 letters.
יט וַיִּסַּע מַלְאַךְ הָאֱלֹהִים, הַהֹלֵךְ לִפְנֵי מַחֲנֵה יִשְׂרָאֵל, וַיֵּלֶךְ, מֵאַחֲרֵיהֶם; וַיִּסַּע עַמּוּד הֶעָנָן, מִפְּנֵיהֶם, וַיַּעֲמֹד, מֵאַחֲרֵיהֶם
כ וַיָּבֹא בֵּין מַחֲנֵה מִצְרַיִם, וּבֵין מַחֲנֵה יִשְׂרָאֵל, וַיְהִי הֶעָנָן וְהַחֹשֶׁךְ, וַיָּאֶר אֶת-הַלָּיְלָה; וְלֹא-קָרַב זֶה אֶל-זֶה, כָּל-הַלָּיְלָה
כא וַיֵּט מֹשֶׁה אֶת-יָדוֹ, עַל-הַיָּם, וַיּוֹלֶךְ יְהוָה אֶת-הַיָּם בְּרוּחַ קָדִים עַזָּה כָּל-הַלַּיְלָה, וַיָּשֶׂם אֶת-הַיָּם לֶחָרָבָה; וַיִּבָּקְעוּ, הַמָּיִם
Write down verse 19 (יט) from right to left, without spaces. Underneath verse 19, write verse 20 (כ) from left to write, without spaces. Underneath that, write verse 21 (כא) from right to left, without spaces. This produces the 72 names of God, each consisting of three letters – a tremendous energy for bringing about change, protection and breakthrough in each of us.
To learn more about the meaning and function of each name of the 72 Names of God press on the name from the table below.